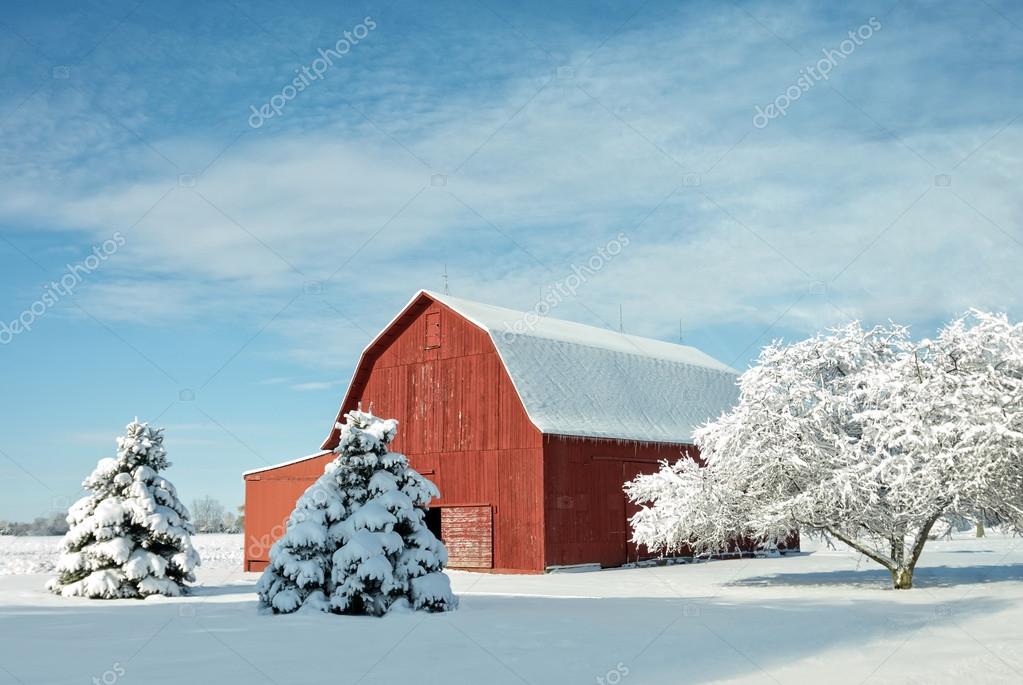 Not my barn, but really serene isn't it?

Good Morning stitching friends. Wow, is it Spring yet? Not if all this white stuff is any indicator! A while ago I discovered this crochet site on Instagram. They show some of the most adorable crochet projects. This one, caught my eye as shareable. If you are like me, I need an evening project, you know, after dinner, by the fire, husband watching the same episode of Pickers...again! This one looks good to me. I am going to scan the stash, I know I don't have this yarn but I may have something I can use. Not necessarily a baby blanket but a cuddle cover, for someone. So, here it is, shared from an email I received a week or so ago.
Have a lovely day!

ALTERNATE SINGLE AND DOUBLE CROCHET
Bernat Forever Fleece yarn (100% polyester, 280 g/9.9 oz, 177 m/194 yds)
Colors
2 balls Balsam, 1 ball each of Juniper, Dark Eucalyptus, Sage and White Noise
Tools
Size M/N 9.00mm crochet hook, tapestry needle, scissors
Size
Finished size 34 in x 38 in, gauge 4 in = 9 st and 8 rows
Stitches
Single Crochet (SC): Insert your hook, yarn over (YO) and pull up a loop, YO and pull through two loops.
Double Crochet (DC): YO, insert your hook, YO and pull up a loop, YO and pull through two loops, YO and pull through remaining two loops.
Slip Stitch: Insert your hook, YO, pull up a loop and pull directly through loop on hook.
Pattern
With Balsam, chain 66 (or any even number).
ROW 1: Starting in the 2nd chain from the hook, work a SC. *Work a DC into the next stitch, then a SC into the next stitch. Repeat from * to the end of the row. Chain 1 and turn.
ROW 2: Work a SC into the last SC from previous row. Work a DC into next DC, then work a SC into next SC. Continue alternating DC and SC across the row. You should always work a DC into the top of a DC and SC into the top of a SC from the row below. Chain 1 and turn.
Repeat row 2 for the remainder of the blanket, working the color changes as follows: *4 rows Balsam, 4 rows Juniper, 4 rows Dark Eucalyptus, 4 rows Sage, 4 rows White Noise. Repeat from * 2 more times.
To change colors at the end of a row, stop on your last SC when you still have two loops on your hook, and pull through with the new color. Cut the old color, leaving a long tail you can weave into the blanket later. Then chain 1 with the new color and turn. When you've finished your last row, tie off and weave in all ends before beginning the border.
Border
Round 1: Pull up a loop in any corner and chain 1. Work one round of SC around the blanket, working 1 stitch per row on the sides of the blanket and 3 SCs into each corner. When you reach the corner you started with, work your last SC, then slip stitch into the starting stitch.
Round 2: Continuing on in the same direction, chain 4 (or any number if you'd like your border wider). Starting in the second chain from the hook, work a SC in each of the 3 chains back toward the edge of the blanket. Slip stitch into the next space, and in the next space. Turn and work in the back loops of each of the 3 SC you just made. CH 1 and turn. Work back down and SC in the back loops only. (Be careful not to miss the 3rd stitch, it sometimes pulls tight and is hard to see.)