As soon as the weather warms in Spring my plants go outside on covered porches. I try to remember to water them regularly, I try to remember to rotate them to even out their sun exposure. This little guy sat on a second shelf, under a large plant and was watered from the over flow of the larger plant. I sort of forgot about it. Look how it has rewarded me! I feel guilty.
Hello there Sewists! Here we are ticking away the weeks until the New Year. I have been doing some fashion blog reading and came to a few conclusions. These dedicated bloggers have done lots of research from the trends championed by designers and ready to wear. The general consensus shakes out to a few key points. First, to a person, they all advocate the 'core wardrobe' concept. It is financially responsible and it is efficient for the wearer. Clearly, fashion has come around to understanding the Sewist mind-set. Well, that's how I choose to look at it! From my early sewing days I chose to make items that would go together. My budget was limited and so were my options. In the end, it worked out well. I suppose that is why I was attracted to the whole Vogue Patterns Magazine project to begin with.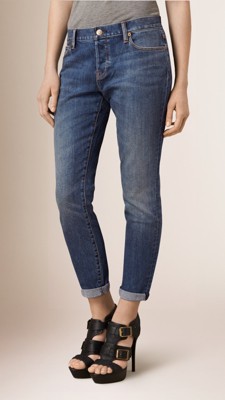 Jeans, Burberry, $295.00. Not my size or style but I hope you get the idea. I don't care for skin tight anything but jeans styles and preference are as personal as the wearer.
Not all of these items need to be
made
by you. These may be items you choose to purchase to round out the new core wardrobe. For many of us these items may already be pillars of our current wardrobe. Here they are:
White blouse/shirt.
Tailored Jeans.
Neutral trench coat.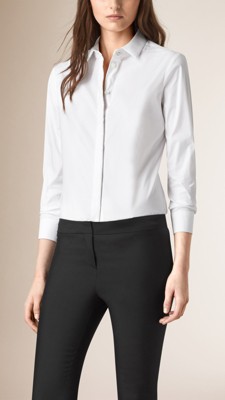 White, straight cut, Burberry, $425.00. I know.
Lets discuss the white blouse/shirt. I have a love-hate relationship with white tops. It seems that no matter how much I try, I end up with a spot. As a result if I am wearing a good white blouse there will be no eating or drinking. Sad but true. I will be working on one of these during the project.
Basic, yes? I did not make my favorite jeans but I did tailor them myself. They were purchased at a high end retailer a couple years ago and after wearing them once or twice I noticed that the spandex component did not limit the stretch in this particular fabric. Therefore, some alterations were required. I took the waistband off from the sides around to the back, (do not touch the zipper, button, front pocked placement) cut the waistband and removed 2 inches in all, a total of three small seams. I placed the seams near the belt loops, blended right in. In addition, the back crotch seam droop would have accommodated a diaper! I copied the curve and length from an older pair and stitched it back. All in all I removed about 1 inch from the top of the curve to about 1 3/4 inches from the deep curve. Now, all is well. Those still have lots of life and will continue in the rotation.
Last but certainly not least, the trench coat. My absolute and ultimate stand by. No matter what the circumstance a well cut and fitted trench can go anywhere. Last year I replaced my black coat. Not a Burbury, a London Fog. It is perfect. This year, before I decided to do this project I picked up another trench by a major designer at a greatly reduced price. It is gray, it has a micro-fleece liner and a removable fur collar. I am ready.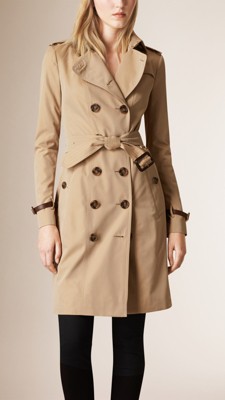 Burberry, $2195.00. Aren't you glad you sew?
My point here is to tickle your thoughts to start narrowing down your needs and options. A well rounded wardrobe will not be accomplished in one sewing block or one year. You have total control of how you will arrange your sewing and your purchases. Just remember to tie purchases in with the items you plan to sew.
Are you considering Navy as your dark neutral? Pop over to
see what Janice, of the Vivienne Files, chooses to compliment your dark neutral Navy Wardrobe.
Next post, I will share my patterns for block one. I have changed my mind several times, and likely will tweak it again. Starting simple here, it has been a while since I did any major garment sewing. If you have been at it you are already one step ahead! So block number one is coming up January 1st. During the first three months of the year you will be sewing clothes to wear in April, May and June. During those three months you will be sewing for July, August and September. Etc. By training your sewing mind-set to sew three months ahead, you will have the pieces you need when that time comes. No scrambling around for something to wear to your Memorial day picnic. Nice new crisp white pants and a cute little T shirt with some contrast binding will make you right as rain! Hopefully, it will not rain on your picnic!