The first in a series of little pre-Holiday posts to spark your interest in a
Handmade Christmas,
I have chosen the Christmas Stocking. There is a style and a profile for every decorating need, of course, but these little ditties rather reminded me of a rustic style of Holiday cheer. Hung from a mantle in a log cabin, made in miniature and adorning a scrappy little tree or fashioned from elegant fabrics, beads and pearls, the stocking is one of those Harbingers of the Holidays that is familiar to most. Consider hanging one from a child (or an adults) bedroom door handle or bedpost. If you post gifts to distant friends and/or family it could be the carrier for a small scarf, snazzy knitted socks or the always popular gift card. Why not start a tradition, a collection of these for a stitching friend with some sparkly new notions tucked inside? Remember to label the finished piece for provenance.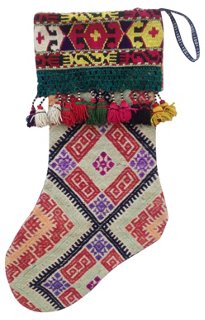 One Kings Lane
Reduced in Price from $295.00 to $195.00 These are already sold, sorry you missed out. There are many more examples on the
One Kings Lane Site.
My point here is really simple. If you have a mind to create something like this you can do it easily,
because you sew!!!!
At $195.00 apiece, on sale, you can whip up a heck of a lot of little stockings. These are newly made from antique and Hmong tribal batik textiles. They measure 10.5 inches W by 19 inches H. Made in any size from fabric scraps or left over upholstery samples we could replicate the look and feel if inclined.