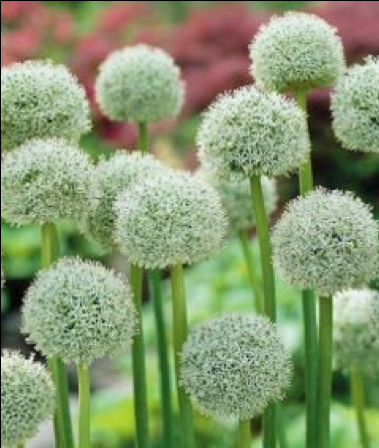 Allium
Hey there puddle jumpers! The first official day of Spring, really, does that consider the snow flurries I encountered in my travels. If this is a joke, we get it OK? Stop already!
Sorting through some items while prepping the TRQ show Raffle baskets, I came upon a little bag with pictures of divine purple Alium on them. Oh my, those were supposed to be planted in the wall garden last Fall. This is what happens puppies when you are trying to do more than one thing at a time. I organized items for the baskets on a convenient shelf system and somehow that pretty bag wanted to hang out there too. These are the things that go on at our house! I would bet dollars to donuts that quite a few quilters would appreciate these beauties!
Or not.
Hanging in the Studio, this little block is cute. Quick to make. Start with a 5 inch square, half-hexi roof, a little sashing and borders. Fusible to little door and window blocks, blanket stitch. And a big shout out to Moda for providing bias binding on a roll, lots of colors. Going to be needing that.
Instead of random stippling we hooped the square and nice little design was embroidered for quilting. Great machine.
One of the bonus projects included with the cost of a seminar with Jenny Doan, of Missouri Quilt Company, (sponsored by a local Sewing Machine Dealer) this cute little house block. I went to the class this afternoon. I had the opportunity to try out several new machines while working on this project. I didn't buy but came home with brochures. I know, I know, but it is amazing to see how much embroidery machines have advanced since I bought mine in the late '90's. Glory be, I think I am in love. These are infinitely more accurate with design placement. Hoop sizes are larger, little laser beams show you selected points in the embroidery and the embroideries themselves are much more intricate and well designed.
Thinking, always thinking. My biggest question is how much embroidery do I really do? Not that much but part of the reason is the fiddley placement issues. I ruined a beautiful piece of linen while making a tablecloth for Easter a few years ago and never turned it on again. Hours and hours of work plus the fine linen would not tolerate removing the stitches and holes appeared. Thinking.