Our campground site at the KOA Erie in Mckean, Pa. was large and beautifully landscaped. This campgrounds has won The Presidents Award from KOA. I am not sure what criteria was used but it is one of the nicest we have ever visited. We rented one of 4 Patio Sites. They are large pull-though sites with large paved patio's, gas grill, table and chairs as well as a glider loveseat and a fire ring. The utility pedestal was self contained and was lighted. We also had a welcome lamp post in one of the flower beds. Beautiful. I thought I took pics of all this but apparently I did not.
The landscaping made the area very welcoming. We had many camper visitors during the week but Mr. thinks the outside TV may have contributed
So pretty.
This is the only site pic I have, duh! Good grief woman, lets keep up, OK?
Erie KOA McKean, Pa.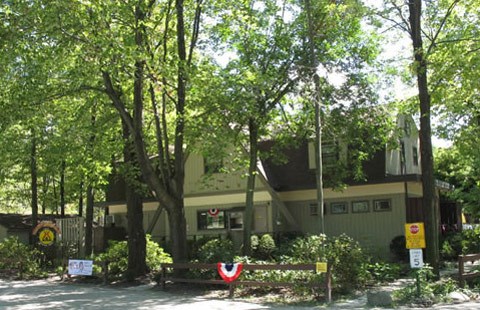 There is a beautiful heated pool and spa.
A large lake for fishing and paddle boats.
A frog pond.
Playgrounds, large sand box and petting zoo keep the kiddos busy.
The grounds are large and mostly level, great for bike and cart riding.
We already have plans to return the same week to meet up with new friends.